Communicate the fact that you use chemicals responsibly.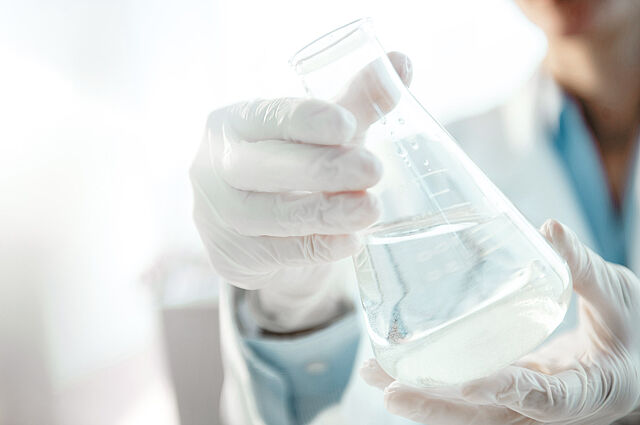 The textile and clothing industry is changing rapidly, and not just in terms of style trends. There are more and more new regulations and industry initiatives in relation to the use of environmentally friendly substances that are not harmful to health. Every company along the supply chain is constantly required to implement and maintain stricter and more responsible chemical management systems. Furthermore, brand owners and retailers are demanding additional confirmation from their suppliers that the chemicals used in their products do not pose a risk to human health or the environment. The ECO PASSPORT by OEKO-TEX® gives both textile and chemical manufacturers a trustworthy solution for communicating about their products in a credible way.

All your questions answered - what you need to know about the ECO PASSPORT by OEKO-TEX®.
What is ECO PASSPORT certification?
ECO PASSPORT by OEKO-TEX® is an independent and standardized testing and certification system for chemicals, colourants and accessories used to manufacture textiles. A three-stage verification process analyzes whether the chemical products and each individual ingredient meet specific requirements with regard to sustainability, safety and compliance with statutory regulations.
What are the three steps in the certification?
Step 1: a comparison of the ingredients in the chemicals with the OEKO-TEX® list of harmful chemicals based on their CAS numbers.
Step 2: analytical testing in our OEKO-TEX® laboratories to ensure that the certified products can be used for the sustainable production of textiles that are optimized for human ecology.
Step 3: (optional) review of the level of responsibility that the chemical manufacturer takes for the product – measures relating to working conditions and environmental management (evaluation and audit).
Is there any link to existing OEKO-TEX® certification systems?
The ECO PASSPORT is perfectly aligned with the existing OEKO-TEX® certification systems. Chemicals, colourants and auxiliaries that are certified in accordance with ECO PASSPORT by OEKO-TEX® are also recognized by the STANDARD 100, for the MADE IN GREEN label and as part of STeP certification.
Who can apply for the ECO PASSPORT certificate?
Any manufacturer of textile chemicals can apply for ECO PASSPORT certification. ECO PASSPORT is suitable for all chemicals products (textile chemicals, colourants and auxiliaries) and for any formulations of them used in the textile and clothing industry or similar sectors. Wholesalers and resellers of chemicals can also apply for certification, although separate conditions apply.
For how long is an ECO PASSPORT certificate valid?
An ECO PASSPORT certificate is valid for one year (twelve months). By signing the declaration of conformity, the applicant agrees to authorize the OEKO-TEX® Association to perform control tests on its certified products during the period that the certificate is valid. You can apply to renew the certificate three months before it expires at the earliest.
Some specific benefits of the ECO PASSPORT that are not to be missed.
ECO PASSPORT certification assists you in choosing chemicals that are safe for human ecology and environmentally friendly. Even before the chemicals are introduced to the production process, you have reliable control over the substances used when procuring them.
The ECO PASSPORT certificate also ensures ZDHC (Zero Discharge Hazardous Chemicals) conformity (level 1 or 3) and that legal requirements are met.
Certification by a third party ensures that confidential product data is protected on the one hand, while also providing the transparency that the market demands with regard to ingredients on the other.
The breakdown into a three-stage system means that any improvements required can be carried out after each stage, therefore avoiding unnecessary analysis costs.
The ECO PASSPORT integrates seamlessly into the modular STANDARD 100 system and is perfectly aligned with STeP by OEKO-TEX® certification of environmentally friendly production facilities.